May 19: No point in flying low.
MUSIC: EMAROSA
MOOD: GUUD
Oh the jolly prospects! Saturday I'm going to another little festival, Black Star Fest, with Blessed by a Broken Heart, No Turning Back, I Am Ghost and Campus (hai again), Grey Like Masquerade etc etc etc. Not that I'm actually familiar with those bands, haha, but after seeing so many people with their cameras I got the courage to bring my baby as well.
In other news, I went for a quick shopping spree after dropping my paper off at school (Vicky vs Paper: 3 - 2!) but I didn't get much, just these two pretties: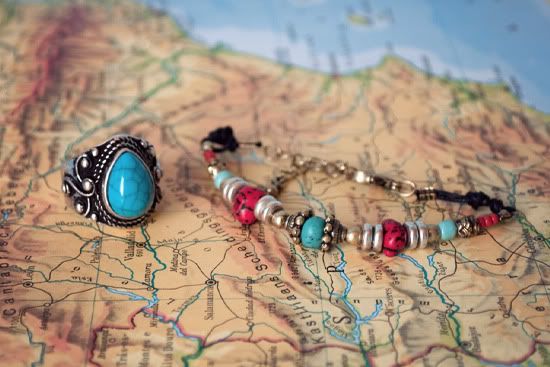 Ring and bracelet, Six, €3,95 and €4,95
And some new black skinnies because my old ones were getting a bit too rippey. And not in the fashionable way, no I'm talking what-are-you-planning-on-doing-with-those holes in the crotch area.
I absolutely don't recommend the bracelet as the beads seem to have been put on too tightly, so it's too stiff to fit around the wrist nicely. Bummer.
The background in the picture was deliberately chosen, but more about that later haha.
Labels: buys