Sep. 28: Pursuing endless love to endless depths.
MUSIC: EVERY TIME I DIE
MOOD: ON CLOUD 9
w00000t you guys! Yesterday was my 20th birthday, had a good day, but what really matters, is the day before. I told you I was going to see Every Time I Die the 26th. Well, it was awesome.
I endured All Shall Perish, standing right next to the speakers with my friends, second row. It was boring, and not only because I didn't know (read: liked) any of the songs, but also because if you stand somewhere at the side, you miss out on all the fun.
For Every Time I Die, against my friends' advice, I got myself a spot front row, right in the middle. I looked around and I saw nothing but guys, well on their way to getting incoherently drunk. Oh fuck.
Much to my surprise, it was quite alright! Only a few people stage dived, I got a few pushes and elbows in the back, no biggie! I had space to dance like a crazy motherfucker. Awesomesauce!
But the best part of it all, was in between songs. Keith was reaching between his legs (wtf) and made a remark about the hole in his pants. Mind you, I always wear my ripped up pair of skinnies to concerts because I don't want to spoil my new pair.
So I just yelled his name, I was surprised he even heard me and said "Me too man, big gaping holes!" and then we high fived and he said we'd talk about it later. Hahaha.
Call me a crazy fangirl, but I'm pretty sure he was pointing at me when he sang "I am not done with you" during After One Quarter of a Revolution, and when he complimented the front row for being awesome.
Every Time I Die - After One Quarter of a Revolution
Sad thing is they only played 30 minutes, way too short if you ask me, and I'm not sure what was going on behind me, but I've heard the overall atmosphere was slightly too peaceful and quiet. Boo! Lazy immobile fuck heads give Belgians a bad name!
After enduring Terror, we kinda just hung out a bit, circulating through the venue, trying to find any member of the band. After about half an hour we got bored of it (I was out of money so I couldn't afford any more beer) and went to sit outside. I was slightly disappointed, because I would have loved a post-concert chat. Literally seconds later, Keith came outside so I kind of just jumped on him haha. He asked me how my pants were, and we had a lovely conversation.
And then we took a picture. (Because well, PICS OR IT DIDN'T HAPPEN.)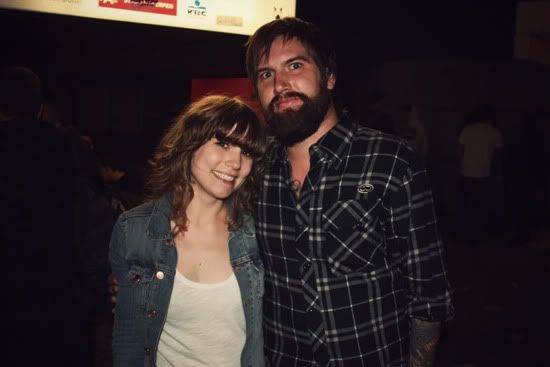 And then he went to eat a hot dog and I skipped away with my friend, happy.
This shit's golden. <3