Blue Dream
MUSIC: DANCE GAVIN DANCE
MOOD: SUPER MOTHERFUCKING ILL
Gawd you guys; if it was aesthetically pleasing, I would add a few items to my What's In My Bag post, being nasal spray, half a pharmacy and a box of tissues. Yeah, a whole box. Yesterday was so awful, I worked a full day on fever and painkillers (of which one got stuck in my throat for like 10 minutes, FML!). I felt so awful for people having to deal with me and my snotty escapades I hid in the stock room in solitude, processing the delivery.
Today went a little better although I was happy to see my shift was over so I could hurry home and not have to worry about getting snot all over my face when blowing my nose, an action which has become a lot harder with my nose piercing (the stud gets caught up in my tissues ALL THE TIME). I want my nose ring back, and the fact the stud slipping out practically doesn't hurt me anymore, encourages me to go for it by the end of this month. Yay me!
On to other news, and the visual entertainment of today, I got this bag about a week ago at Urban Outfitters: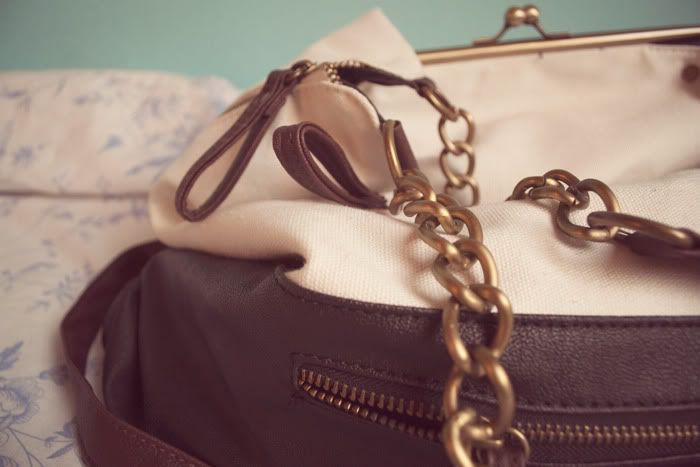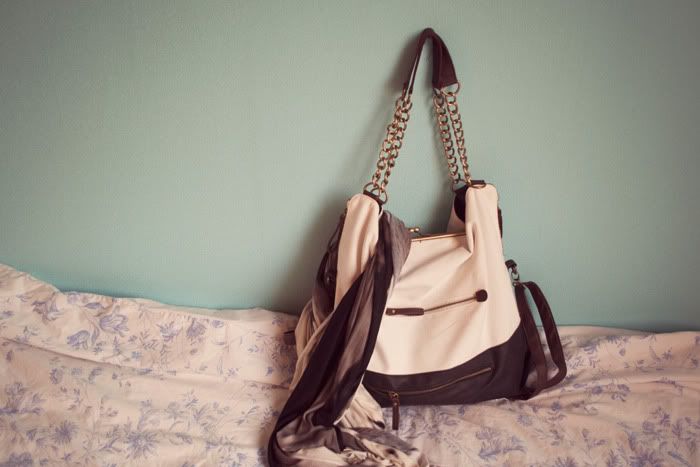 This baby was in sale for €12, I don't know what the original price was, probably around €54. They had the same type of bag a long time ago without the clip on top, which I liked even more than this one, but I didn't have a lot of money at the time so yeah. So this was pretty much meant to be! It's not like the bag I was looking for (I'm desperately seeking a vintage hobo bag, y'know with this typical half moon shape? Or the
AllSaints Chepi Bag
, that would do, too.) but I love it nonetheless. The zippers tear off my nailpolish though. But that's okay because they're a horrible shade of metallic blue right now. Metallic blue. I know. I don't know what I was thinking. This has nothing to do with the title of today's blog (and no I don't do weed either hahaha) by the way, it's this awesome disco/r&b/screamy song by Dance Gavin Dance. Their latest album is not awesome, but it's good. Did I mention I'm gonna get to see them in May? I just hope Jonny's not in jail being someone's bitch by then. Halfass replacement singers will not be tolerated.
Dance Gavin Dance - Blue Dream
3:03 to 3:26 pretty much sums up the mood I've been in the past few days (except for being ill and PMSing), yay!
I will now focus on resting so I will feel EVEN BETTER tomorrow. YEAH!
Adios amigos x
Labels: buys