When the day seems lost from the start...
And the blogger's block continues! Gosh I really don't know what to write about these days. Well, the writing's actually not too hard, but the visual entertainment... I just don't know what to post pictures of anymore!
In a desperate attempt to have something to blog about, I thought I'd tell you about the crap I drag along in my bag every day.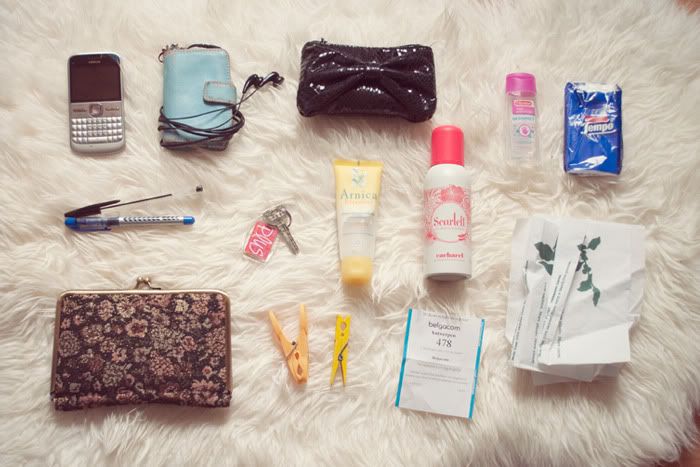 • My cellphone, a Nokia E5 (which still has the plastic sticker cover thingy on it, yeaaah!), despite the bad start, I've grown very fond of it. The past week or so, it seems to be glued to my hand 24/7. Which has little to do with the phone itself but more so with the texts I've been getting. Yay!
• My iPod, glued to my ears 24/7 when I'm on public transport. Just last week I think I broke something in my head by playing Cancer Bats a bit too loud. I ended up going "WHAT?" to everyone at work that day. Random fact: I've named my iPod Napoleon. Just for teh funz.
• Make-up bag. Along with the previous two items, essentials! I feel so lost without it, because well, let's just say I've grown so used to wearing lipstick, whether it's bright red or a subtle orangey tone, I feel so bare without it. Also, lipstick stops me from biting my lip. Nasty habit.
• Hand sanitizer! I'm not so much of an OCD neat freak, but let's just say public transport doesn't go hand in hand (hah) with hygiene.
• Tissues. For unexpected hormonal outbreaks (I admit, I'm a cry baby), snotty sneezes and OTHER PEOPLE'S RUNNY NOSES. SRSLY.
• Pens. Yeah.
• My key and key chain. When I go to concerts I hate to take a bag so I just stuff everything in my pockets. That's why I only carry the absolute necessary. (However a key chain that gives me 10% discount at the supermarket my mom works at isn't really all that necessary. But hey.)
• Hand moisturizer. Because all the sanitizer and moldy basements (don't ask) make your hands dry.
• Deodorant. Because I like to smell guud, obviously.
• My wallet. It's been with me since early 2009, which is rather surprising for something you get from Urban Outfitters. It's the perfect wallet though, it fits all the junk I stuff in it (maybe I should do a post on that as well, haha) and it's totally pretty, too. I often get compliments about it.
• Clothes pegs. You never know what they could come in handy for.
• Random ticket from my phone provider's office. I stopped by twice this week to get my plan altered and guess what? I'm still being overcharged. Nothing changed. DOUCHEBAGS. *shakes fist*
• Napkins. I'm a compulsive napkin thief. I'm one of those people who takes like 10 napkins when at Starbucks or McDonalds, because I always end up spilling when I don't have napkins. Which honestly sucks!
In other news, 6 more weeks until Groezrock and London, yay! If anyone has any tips for visiting London (I'll be there on Easter Monday and the day after, so I specifically need stuff to do on a bank holiday), do share!
To the anonymous comment on the previous post, about that thing I wrote about a few weeks ago: It's going very well, thanks for asking!
Have a great week you guys!
Labels: rants