Oh, up in smoke we go.
Two weeks with no update, I'm such a lazy motherfucker! First things first, welcome to another batch of new followers, it's quite awesome to see the number growing like that! It seems like just yesterday when I first started Disco me to Oblivion when quite frankly, all this was oblivion, haha.
What have I been up to lately? Well, I've contemplated my future, quitting my job, moving out... But yet decided against all of it and here I am, same old, same old. But that's alright, for the time being, until I have another one of my breakdowns, I guess. Haha!
I also went to see Dance Gavin Dance in Brussels, which was quite awesome, however the audience was kinda dead. I mean, I didn't expect massive mosh pits and stage divers, but I did expect some pushing and pulling - the kind of shit that makes a concert interesting, you know, getting some adrenaline running! However, the only moving that occurred was some mediocre dancing, not even dancing like Gavin should, but just some shifting feet and waving arms.
I for one prefer to go loco, but that's kinda weird when you're the only one getting really into it. Maybe I should have gone there drunk. I bet the entire band was drunk.
ANYWAY, I'm ranting. I've also come to the conclusion that I really need a wardrobe detox. My closet's full of stuff I barely wear anymore, it's just taking up space! So before I go to working 32 hours a week, I need to do some cleanin'!
In order to have something to wear these days, I got me this top I fell in love with since I first saw it.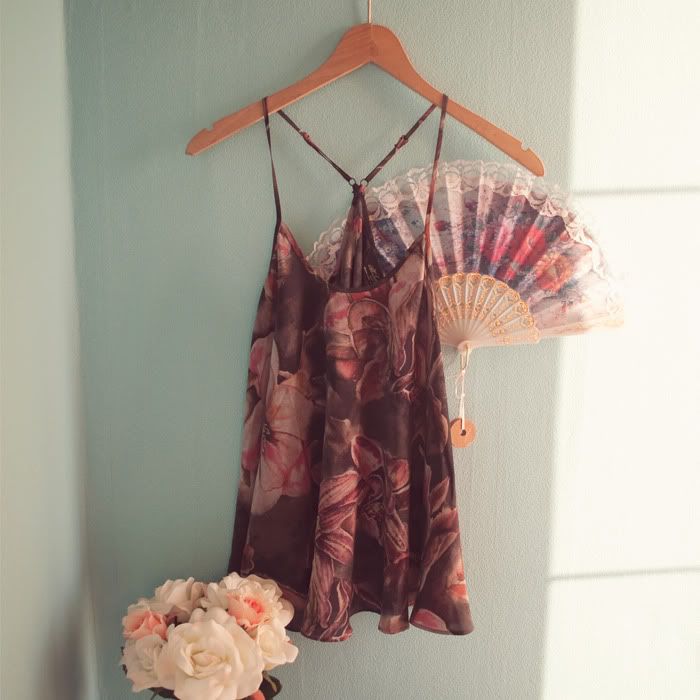 Vika (that's like ALMOST my name y'guys!!) Vest, €90 - AllSaints
Sorry for the relatively shitty picture, I was in a hurry because my ice cream was melting and the sun was setting so I had to snap a pic fast! And so, this pic really doesn't do it any justice. It's so purty and delicate, with the orchids and the cherry blossoms! The silk is so breezy and together with the shape of the top, it kinda feels like you're wearing nothing at all. NOTHING AT ALL! (Cookie if you're seeing Ned Flanders shaking what he's got in a ski suit!)
I will most likely (=not so likely) update soon with an outfit post, involving a really pretty bag from
Doortje Vintage
and my Every Time I Die band shirt that I cut up today. Woo!
Other awesome things today include: Watching Mad Men, making chocolate covered strawberries and hugging the cat. SUNDAYS ARE AWESOME YOU GUYS!
See you soon!
Labels: buys