Keep going through the motions.
Two weeks without an update! So let's catch up. What have I been doing lately? Well, work's taking up even more of my time these days as I've gone from 28h weeks to 32h, which I absolutely don't mind. The more money I can take the better, yay! And it's not like I do anything productive with my time off anyway, haha.
I got super ill last week and on Monday again, and this morning I woke up with the worst throat ache and I can feel it spreading to my right ear, and I'm currently losing my voice as I'm trying to sing along to Closure In Moscow's Breathing Underwater, haha.
I don't know what the fuck is wrong with me!
I also went to see the Cancer Bats on Sunday which was awesome. Bravely got into the mosh pit voluntarily (first time, as I usually stay glued to the stage or back away from the windmillers), didn't get punched around too much and only got one tiny little bruise on my leg. Being a girl is rad! (Read: Guys try not to punch you in the face.) Oh and I kinda stole a drum stick. Haha.
What have I not been doing? Well I missed out on that Forever21 event last week, basically because I would have had to leave after one hour because of motherfucking public transport. Boo!
And in the midst if all this, I wore clothes, too!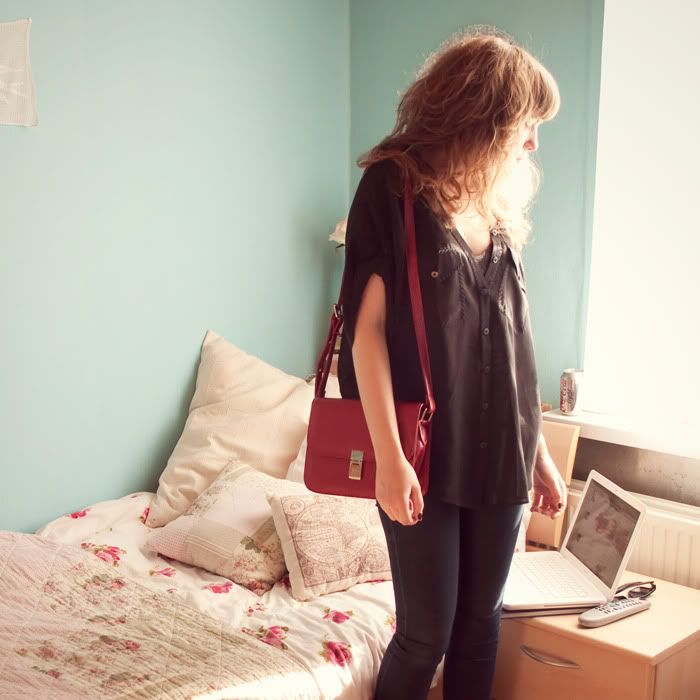 Hecia Cropped Shirt - AllSaints
Padma wedges - AllSaints
Drumstick making an appearance on the bed - Courtesy of Cancer Bats. Haah.
I think I'll be hitting the shower soon, get in bed early and watch True Blood! I didn't quite like the Season 4 premiere but I'm bored out of my skull and I've already watched 3 episodes of Mad Men today. You see, NOTHING PRODUCTIVE IN MY FREE TIME GUYS.
Happy Wednesday everyone!
Labels: outfits