Friday Favourites: Knitwear
Let me just start by saying this:
I hate autumn and winter.
I hate the weather, the clothes, the dark, everything. I wish I could live on the southern hemisphere half of the year just so I would never, ever have to deal with it again. EVER.
Nonetheless, I live in Belgium, and living in Belgium means having to deal with Autumn basically all year around. Layers and knitwear are essentials, and guess what? I HATE BOTH!
I would rather parade around in a skirt and a silky top for ever, but alas! Nights are getting pretty chilly which means mornings are pretty fucking cold even in early September - You'll put on your coat and regret it in the afternoon, because OH RIGHT, it's still Summer in the rest of the world so the sun is still pretty bright and all.
I'm ranting, so let me break it down: I'm completely clueless of what to wear in cold weather. And what do I do when I'm in a fashion rut? I check net-a-porter.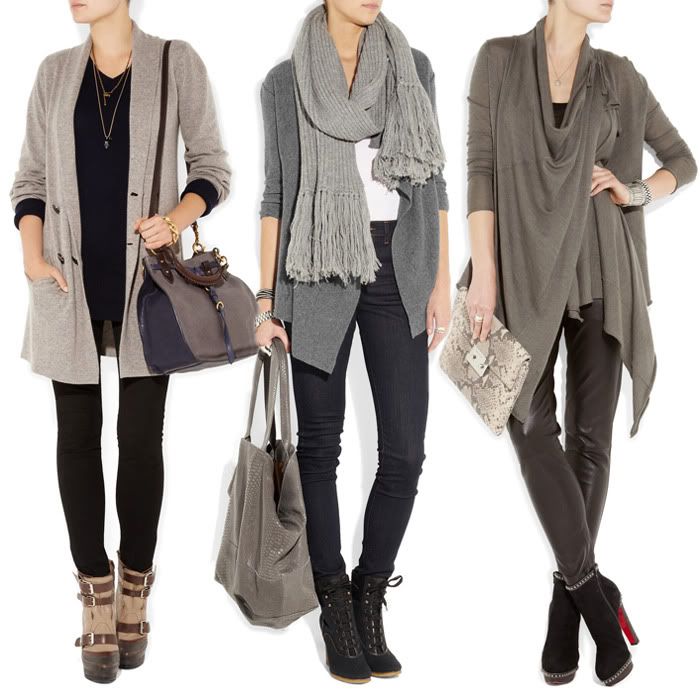 So most of these are way beyond my budget (if I would suddenly get a 50% pay raise I might just splurge on the fringed Elisabeth and James cardigan, but that's never gonna happen), but it's the idea that counts right? Cardigans (I didn't specifically look at cardigans, they just appeal to me more than jumpers do I suppose) in fine knits, lots of drape and texture, and quirky details. Slap on a plethora of jewelry and boom, I'm ready to roll!
And thus the darker seasons become slightly less appalling. Huzzah.
Other than getting frustrated about the weather, I also enjoyed two days off by sleeping loads, watching In Treatment and Sons of Anarchy (IT'S BACK YOU GUYS!!!!!!), drinking lots of soda with ice cubes (we never had an ice cube shape until I bought one at Ikea) and generally having a really lazy time. Awesome!
Enjoy your weekend lovelies!
Labels: window shopping