Gently
1) Nina Ricci's Nina L'Elixir Giftset, €54 on sale - Ici Paris XL
2) Burgundy lace high waisted shorts, €12 - Urban Outfitters
3) Suede loafers, €12 - New Look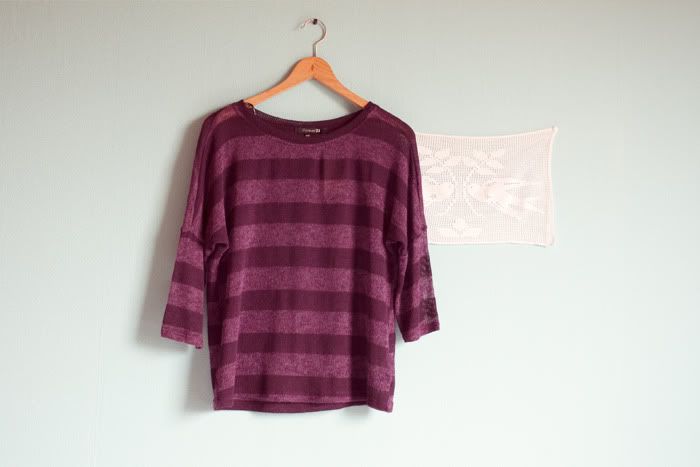 4) Purple sheer top, €10,99 - Forever 21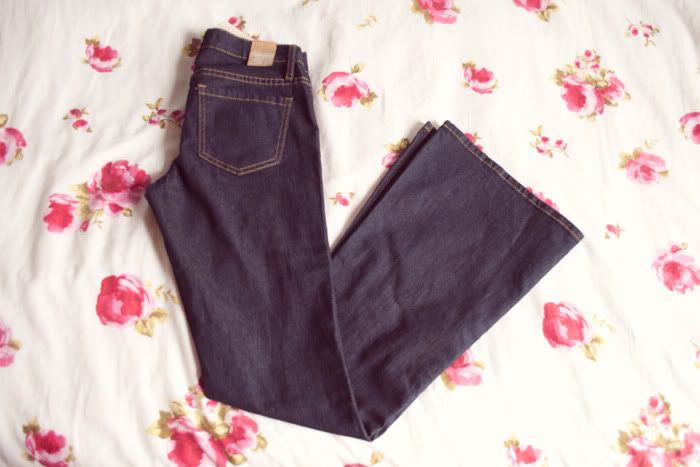 5) Dark wash flares, buy one get one free - Forever 21
Hey guys! Figured it was time to show my purchases from Monday haha.
1) I love how after Christmas, in the sales, you can find gift sets for prices lower than the bottle alone haha.
2) First time I saw these shorts I was with my best friend and he remarked that they looked like giant underpants. I was eyeing them in white or black, so well, point taken haha. Second time around, I decided to try them on because they haunted my mind. Surprisingly, they fit beautifully! (High waisted styles usually don't work on my short torso.) I took the black pair to the cash desk but alas, only the white ones were on sale. And seeing I'm the whitest girl alive all through Summer, I didn't care much for the white ones.
Third time's a charm, when also the burgundy ones were on sale. I searched the entire store to find them for €24 and then the sales associate told me they were €12. You wouldn't believe how happy I was, haha.
3) As you may or may not know, my feet are orthopedic train wrecks and after getting free quality footwear from my job I swore never to wear PU shoes again (ok never say never, but you catch my drift). These little suede loafers (for extra wide feet - is that an insult?) fit me like a charm! I was so happy to find a pair of open flats that don't slip off my heels!
4) and 5) I initially thought Forever 21's sale would be nothing but a pile of junk thrown together but it was actually quite alright! When I saw that they were doing the buy one, get one free thing, I had a major kid-in-a-candy-store, *OMG WHERE DO I BEGIN* moment, but decided this was all I needed... For now. Might go back for some more flared denims. Haha.
In other news, I applied for my dream job the other day. Let's all cross our fingers in hopes that they will invite me for an interview and hire me! Because looord knows I need this!
Last but not least, I've been slaving my ass off on a pretty little webshop! I will be selling the stone necklaces and the beaded bracelets there, and I'm hoping to open by the end of the month. Yay! I'm really excited about this and I wish I could share some images but alas I don't have any stock at the moment (I sold a few necklaces and I'm waiting for new supplies)!
That's about all I have to talk about today, so I'll be off again to continue working on the webshop! Until next post!
Labels: buys