Dolores on the dotted line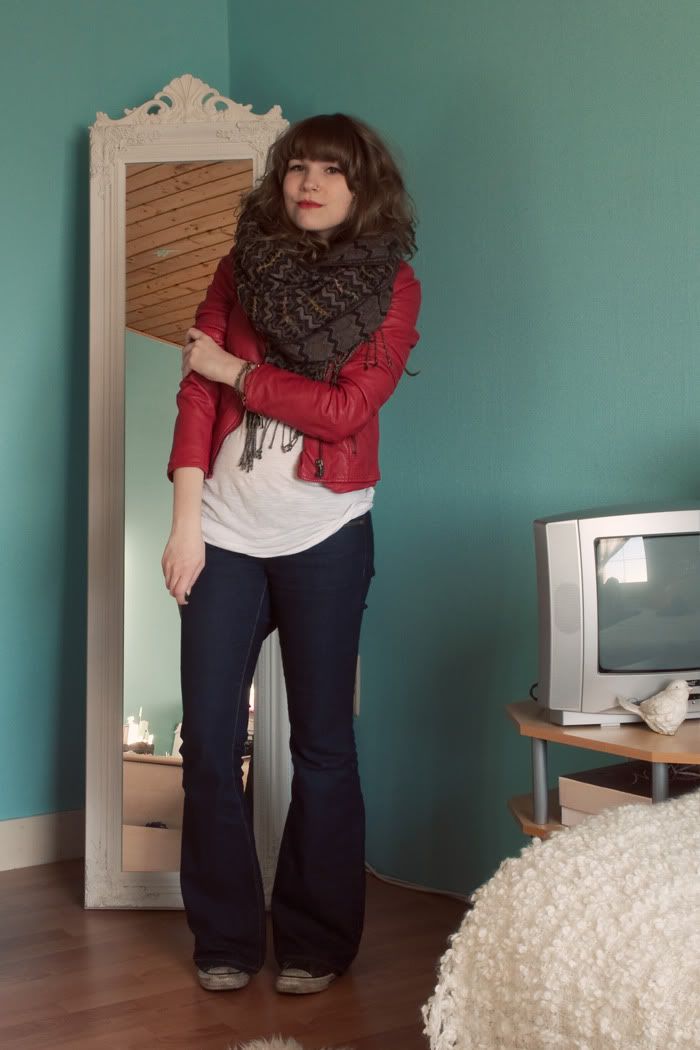 Scarf - Free People, Red leather jacket - Zara sale, Suede bag - H&M sale, Flares - Forever 21, Converses
Hey all! Are you enjoying your weekend? I know I am. I caught up with a dear friend on Friday (and can't wait to see him again), went shopping with new friends yesterday (and can't wait to go again!!) and today is totally dedicated to me-time! In case you hadn't noticed, I'm a pretty introverted person, and I need to refuel by taking naps with my cat and watching American Dad and movies. I'm currently watching The Life Aquatic With Steve Zissou, mainly because of Matthew Gray Gubler with a perm.
On to the outfit. I've been digging no fuss, super comfortable outfits lately. I'm still on a Free People high, and just a few weeks ago I snapped up this awesome scarf from their sale section with a special free shipping code. It only set me back €16 and I'm so in love because it looks so wonderfully unexpected with my red leather jacket which I got back in the January sales. I'd been looking for a good red jacket for ages and then there it was, at Zara, a store that rarely satisfies my fashion needs. I still have to fix the lining, which is all awkward and too big so it droops out of the sleeves and body of the jacket. Seriously weird.
My webshop is slightly on hold at the moment, I hate it but the company management course is so boring! I keep trying to get some studying done during my lunch breaks but I keep falling asleep haha.
So that's pretty much all I have going on at the moment! Ciao lovelies!
Labels: outfits