On (not) blogging.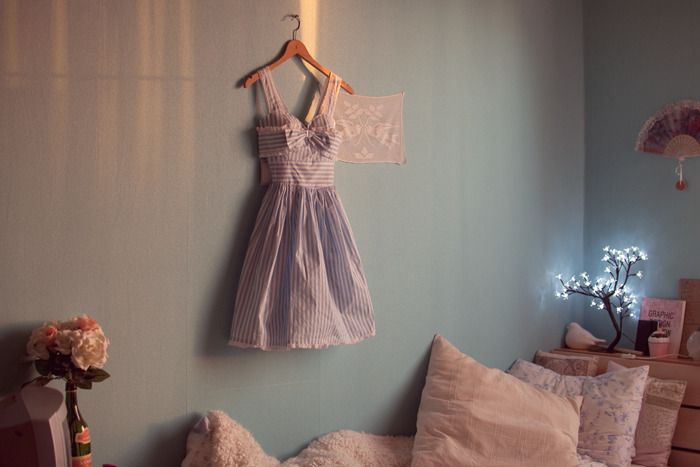 So hey guys, I just felt like sharing what's been going on in my life lately. I haven't been feeling up to par the past few weeks, possibly due to the lousy weather we've been having, or the fact my life currently exists of working - cooking - eating - cleaning - sleeping too little. I scrapped the new blog layout I was working on, and haven't started the new design I was planning on doing. I wanted to go out sale shopping this morning but I overslept and stayed in bed all day, which is bad, mmkay.
After sulking all day, I decided to get my shit together and clean the house, which I did, but I still cannot find a cure for this burn out I'm experiencing. I don't feel like taking pictures, drawing, designing, not even getting dressed! Like whaa!!!
I've been having hard times getting dressed especially for work, because as you may or may not know I work at an eye clinic as a secretary so I can't exactly float around in sheer tops or overly cute vintage inspired dresses like the above (BUMMER RIGHT).
Another reason why is that I've been a bit fed up with my body. I'm quite short and proportionally speaking, I have a small torso and a high, little defined waist, while all I could want is a tiny waist which would look superb in flared high waister skirts but alas, I look incredibly stumpy in them. The dress pictures above, I couldn't even zip up, which was the last drop for me.
So okay, I've gained some weight after going from sales associate to desk clerk (meaning: running around all day versus sitting on my ass with access to cookies all day), but I can't say this is a new feeling. I'm a Libra with a few traits of a Virgo. I'm an idealistic perfectionist, ergo, prone to insanity haha.
My mom just wants to slap me for criticizing my figure the way I do, but what can I say? The grass is always greener...
I must say after frequenting the gym (I go 3 times a week, this week I stayed home once for Fonzie my cat because the weather forecast said there was a big ass storm coming) my body's been better, my legs have a defined shape (which they never had before lolz) and my back feels a lot stronger but my itty bitty jelly belly seems to be immune to my work out, alas. So I keep dreaming of a flat stomach and a tiny waist.
So yeah, that's about it I suppose. Sorry for this incoherent post. On a rational level I realize I have nothing to feel bad about body-wise, and in no way do I endorse or condone unhealthy life styles nor do I see flaws or imperfections in other people the way I do in myself.
First and foremost, I should clean up my room properly because this mess is making me a mess! And a lazy one, too. So I'll wrap things up here, take a nice shower and go to bed, so I can get up early tomorrow, go to the gym, perhaps go into the city for some sale shopping, and tindy up my fucking room.
Peace out! Lololz.
Labels: rants