Between brightness and me.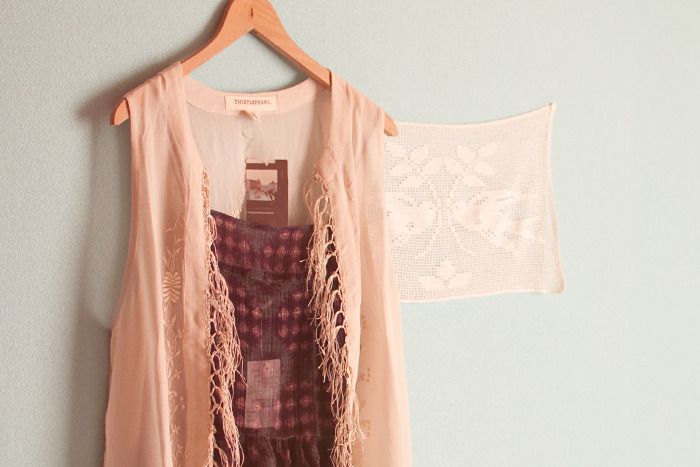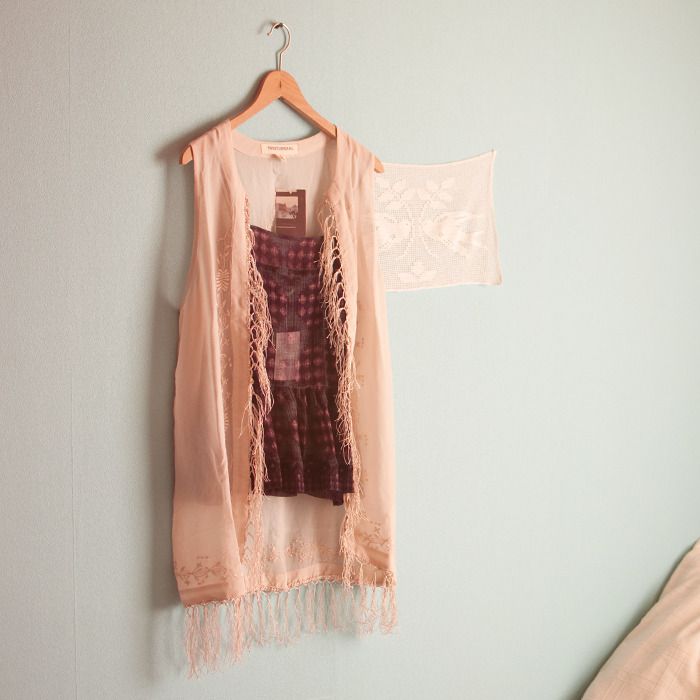 Hey all! This package was waiting for me yesterday, a pretty embroidered fringe vest and a delicate crepe chiffon top from
Urban Outfitters
, an order I posted about on the blog's
Facebook page
. If you haven't *liked* the page, I suggest you should if you like some background info about life as I live it! As we all know I'm not the most productive blogger out there, but I'm a perfectly adequate facebooker! (And trying to keep up with Twitter although I think it's just not my medium haha - I'm way too much of a storyteller to condense my thoughts to 140 characters!)
Anyway, the necklace I ordered along with these two pieces was backordered - boooo cause it was really pretty. I've been doing a lot of online shopping because my weekends consist of quiet meditation (read: stay in bed all day haha) and Saturday high street shopping is too chaotic for me to keep a cool head, which is especially risky when I'm carrying a stick (read: mah crutch) with me at all times.
On my
medical mishap
, I went to the hospital today to get a bone scan, which showed a stress fracture in my left foot. Also the radioactive material they injected made me a bit queezy which was kinda shitty because I was alone, on foot (on broken foot, even haha). I had to move my appointment with my orthopedist to Monday, so I'm still walking around in bare feet, no cast, which leads my parents to believe I'm just making this fracture up (even though the medical report from the hospital clearly states that it is, indeed, a hairline fracture WHICH IS ALSO A GODDAMN FRACTURE haha). So yeah, I've had quite an upsetting day. Which probably explains why I didn't bother to edit two different shots of my pretty new purchases, and just cropped one pic differently haha.
I digress! Let me elaborate on these two pretty new pieces I got! A while back when I was on the hunt for my mojo, collecting inspiration for the new layout I was trying to churn out, I started following some design blogs, one of which is
Kelli Murray's blog
, where I happened to find the fringed vest.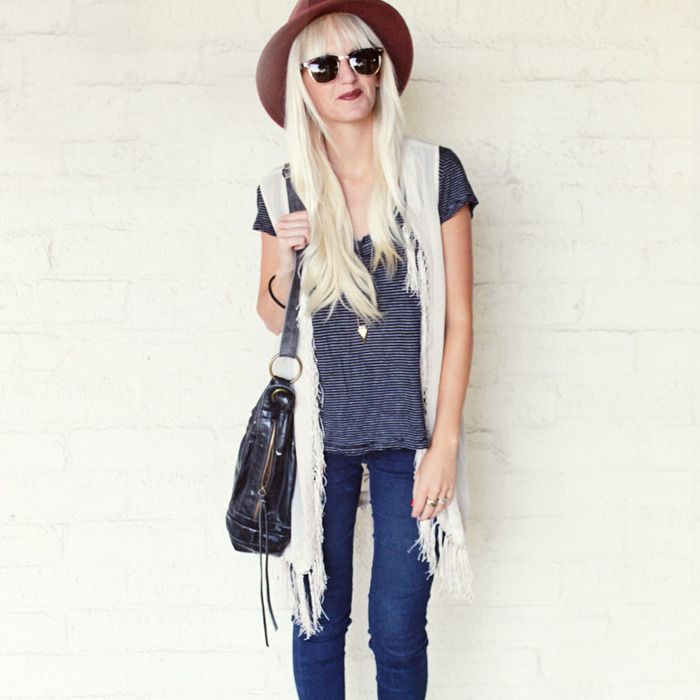 Pretty sweet right? So I jumped on it and ordered the vest along with the printed top (I tend to buy at least two items when I shop online, kinda to make up for the shipping fee, which is nonsense I know haha). It's a bit wide for my likings, I have small shoulders and I'm a bit pear shaped but I think I'll just run (sorry, limp) to the DIY shop to get a batch of ivory coloured embroidery thread to make a plaited tie to attach to the sides, so I can tie the vest in the back, if that makes sense. Score, right?
I'm still not quite sure whether or not to keep the printed top, though I probably will. Returning things is just so... Fussy haha. UO also gives cash refunds when you return it in store which means I'll probably spend that €18 on things like expensive lunch and most of all: Desserts WHICH I REALLY SHOULDN'T HAVE as the gym has been crossed off for the next month (at least!) boo! I might just try and get myself into yoga to get at least SOME fitness thing going. Waaah!
I need some more shopping to get my frown upside down, haha.
Have a nice weekend lovelies! Oh and thanks for the lovely comments about the new layout! I definitely appreciate it!
PS: I know some of the links in the header don't work right now, I'll get on that this weekend!
Labels: buys