Jul. 24: 12 hours, 630 miles.
MUSIC: DANCE GAVIN DANCE (WHEN IT STILL HAD JONNY)
MOOD: GOOD
Okay so now I've had all new thingies from
Jul. 22's
post, except for the lacey top/bralette thing (which I still have adjust because it's a size L) and the leopard wedges. Have a close up of the top I'm wearing in the above picture: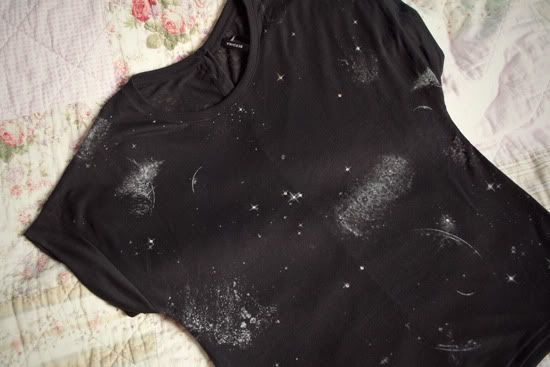 I got it to make up for that awesome shirt Zara once had that I missed out on, it was red and black and really big (I probably would have drowned in it) but really pretty, too. Prettier than this one from Bershka to be honest, but hey, I only paid €5,99. And I love the fit, especially the sleeves! Very flattering, though I'm still trying to figure out what to wear this with, as this outfit is a bit, idk, boring? Bland? I don't like to dress all black. Nor do I like wearing big necklaces (they just bash onto everything haha).
I got some strawberries at yesterday's "European" market, so I decided to make me some proper dessert. It was gone in no time, seriously. Ice cream and whipped cream = Instant munchies. Whenever I'm putting whipped cream on something, I get oh, so very tempted to eat it straight out of the bottle, haha.
And now I'm hungry again, haha.
Labels: outfits